Jack's Deer Resistant Plant Pics

Jack's Garden Center & Nursery

10 Woosamonsa Rd. Pennington, NJ  08534

(609) 737-0224 - fax (609) 737-7771  Email : plantsandtrees@hotmail.com

Remember during a very bad winter deer will eat almost anything, but

it is important not to forget that they munch throughout the

entire year.

To landscape your yard with deer-resistant

plants, look for the following characteristics:

Pubescence - fuzzy foliage or twigs

Aromatic - scented stems or leaves

Spiny - prickles on stem or leaf

Thorny - spikes on stems

Following this criteria will help you select plants that have a better chance of survival against hungry deer in your garden.

Jack's Deer Resistant Plant Pics

The following plant selections are just recommendations and we must all remember that what they do not eat today might change tomorrow but the following plants have proven to be very deer resistant.

There is no guarantee when it comes to what they eat and do not eat, and the following plants are just recommendations and Jack's cannot be held liable for any damage due to Deer browsing.

It is best to conduct you're own studies and find out what plants work best for you.

Jack's Deer Resistant Plant Pics      ( No Guarantees )

Abelia

Andromeda

Barberry

Boxwood

Butterfly Bush

Caryopteris

Clethra

Cotoneaster

Cypress

Cryptomeria

Firethorn

Hypericum

Holly ( Japanese)

Itea

Japanese Plum Yew

Juniper

Lespedeza

Leucothoe

Mahonia

Nandina

Osmanthus

Potentilla

Physocarpus

Privet

Rhododendron

Skimmia

Spirea

Spruce

Viburnum

Yucca

Ajuga

Ardisia

Baptisia

Coreopsis

Columbine

Dicentra

Echinacea

Eupatorium

Epimedium

Ferns

Geranium

Grasses

Helleborus

Iris

Ivy

Lamium

Lavender

Myrtle

Nepeta

Pachysandra

Phlox (creeping)

Plumbago

Russian Sage

Stachys

Tiarella

Tradescantia

Yarrow

Ageratum

Annual Vinca

Dusty Miller

Nicotiana

Forget - Me - Not

Heliotrope

Snapdragons

Cleome

Strawflower

Alyssum

Marigolds

Dragon Wing Begonia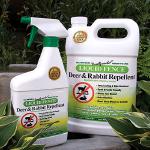 Click on the picture for a larger view and more information

Deer Resistant Perennials

Jack's recommends " Liquid Fence" Deer Control

Please call or stop by our Garden Center to talk to one of our knowlegable staff for more information.

Buy From A Local Grower And Save !

Jack's Greenhouse & Farm - 10 Woosamonsa Road - Pennington, NJ 08534 

                                            Call for our seasonal hours